A new report, conducted by Rank a Brand, has found that most brands and clothing companies are failing on the environment in regards to cotton.
Published this week, the report slammed top clothing businesses, finding that the vast majority do practically nothing to improve environmental sustainability in their supply chain.
Although research did find that "significant progress has been made by a few leading companies", it stated that there has been a widespread absence of information regarding environmental policies and supply chain data.
The report, which ranked brands on a point based system, also placed them into coloured categories consisting of green, yellow, amber and red.
Out of 37 international companies, only one (gathering 12,000 points) made it into the green zone – IKEA.
Following it, in the yellow zone, was C&A Global, H&M Group (which recently launched World Recycle Week), and Adidas Group.
Members of the amber zone included Nike Inc., Marks & Spencer, VF Corporation and Kering.
Every other company in the report, including the likes of Burberry, Associated British Food (owners of Primark), Macy's Inc. and Ralph Lauren Corporation, where found in the red zone, after failing to gather at least 250 points.
Most notably out of the above, the Ralph Lauren Corporation acquired no points whatsoever.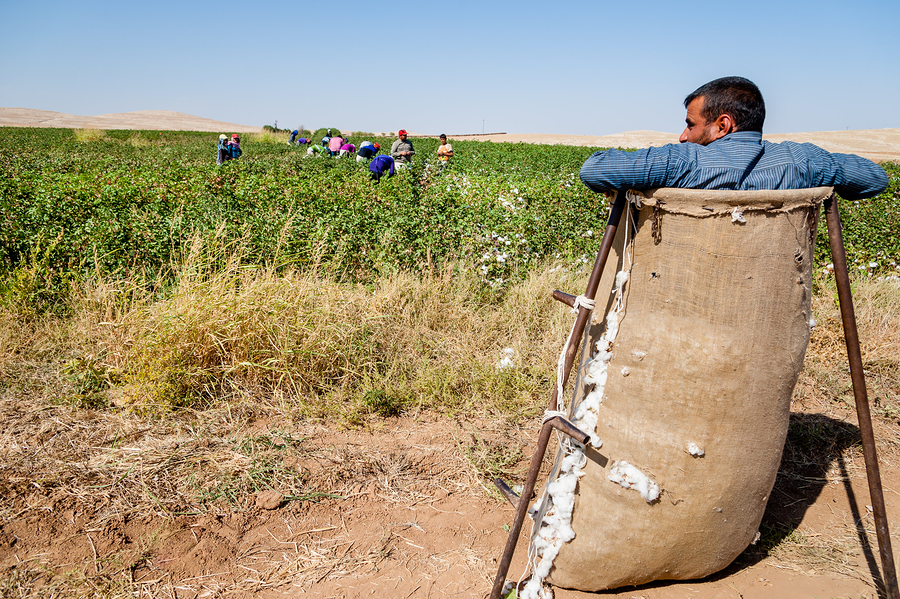 Aside from noting the most sustainable companies, and highlighting those who weren't, the objective of the report was to also identify opportunities for improvement within the cotton industry.
It made the clear and relevant point that although high-profile scrutiny has been shone on instances of child labour and other deplorable operations, little media attention has been awarded to the plight of cotton farming – despite serious environmental and social impacts.
It is estimated that there are 40 million cotton farmers in developing countries, producing more than three quarters of the world's cotton.
Added to this are 100 million families engaged in its production and a further 250 million involved in the processing. The report notes observable issues in the sector including:
Forced and child labour
Excessive water use (often in developing countries with water shortages)
Water pollution
Inappropriate use of pesticides and herbicides
Soil depletion
Biodiversity loss
Debt among farmers
Currently, it takes more than 5,000 gallons of water to make enough cotton for a single t-shirt and a pair of jeans according to WWF.
What's more, despite cotton making up 2.4 per cent of the planet's crop land, the material accounts for 24 per cent and 11 per cent of the global sales of insecticide and pesticides respectively.
Although investment amongst some of the world's top brands might draw criticisms, a large number of global initiatives have been launched to address the wide ranging issues in regards to cotton production:
Production of more sustainable cotton has never been higher, reaching 2,173,000 tonnes in 2014, or 8 per cent of the total global supply."

"This share is projected to rise to 13 per cent in 2015. International clothing companies have the opportunity to play a crucial role in securing the future of the sustainable cotton market, reducing cotton's environmental impact and improving labour conditions."
Despite its good intentions however, some have questioned the credibility of the report itself.
The Fashion Law, one of the leading online authoritative sources dedicated to fashion, notes that, "the information provided by companies, such as H&M, has room to be skewed in its favor to a very large extent" and that only publicly available information was available to score a company's performance:
"Interestingly, Swedish fast fashion giant, H&M, which is known for its poor manufacturing oversight, dirt-cheap textiles, rampant greenwashing initiatives, and its connection with repeated manufacturing tragedies, scores remarkably well on the Rank list, thereby raising questions as to the credibility of the list."
Richard Holland, director of market transformation with the World Wide Fund for Nature said that companies are not "particularly feeling the pressure" at the moment, and he hoped that the next five years will signal an "enormous change" for sustainable cotton.