The traditional "take, make, dispose" retail model combined with increasing demand for next day delivery has led to more delivery trucks, layers of unnecessary polystyrene and bubble wrap packaging; increasing waste and pollution. More and more e-commerce retailers are called to think outside the box both figuratively and practically.
Let's unpack the alarming issue of e-commerce giant packaging and its impact on the environment. Where better to start than by assessing the world's largest online retailer, Amazon, and its attempts at the circular economy? As the largest online shopping marketplace, Amazon has the duty to lead by example and set good trends.
You may ask — what is circular economy? This strategy is restorative and regenerative by design. It's an economic model aimed at effective and environmentally friendly resource usage. By reusing and extracting maximum value from resources, it is possible to reduce waste, pollution, and to retain maximum value of products and materials.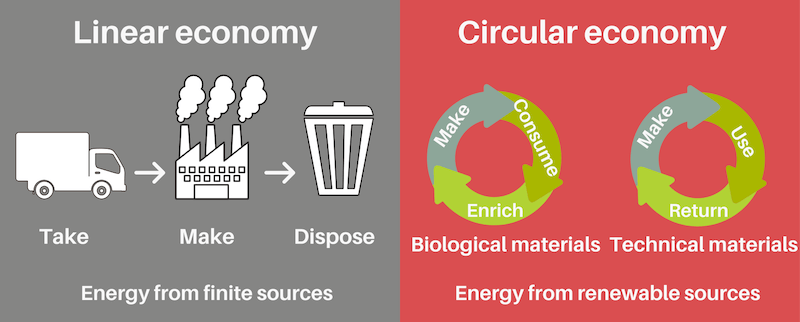 Is Amazon both a victim and a villain?
Amazon has been facing growing scrutiny for the lack of transparency and disclosure about its impact on the environment. Amazon remains one of the few Forbes 500 companies that hasn't filed a corporate social responsibility or sustainability report.
Although Amazon is running multiple sustainability incentives, such as the switch to flexible and smaller packaging, it might be driven by cost, performance, and brand image rather than environmental consciousness. Here is why:
In 2016 extreme rainfalls took down AWS (Amazon Web Services) Sydney data centre.
In 2017 Amazon Air flights were cancelled due to record-high heatwave that prevented aeroplanes from take-off and landing.
In 2018 Superstorm Riley cut the power in a data centre disrupting the Amazon Alexa signal.
In 2018 Seattle forest fires filled Amazon's HQ with smoke.
In 2018 hurricane Florence flooding put 20k trucks on hold at a manufacturing plant.
In 2018 a tornado in Baltimore killed two people in a plant and ruined merchandise in a fulfilment centre.
You may even say Amazon has been a victim of climate change-induced extreme weather, but it is a huge contributor to it. 350 Seattle.org claims Amazon could be nearing 20 million metric tons of CO2 emissions annually, not to mention the waste created by its packaging.
What does Amazon pledge?
Shipment Zero
Shipment Zero is Amazon's pledge to achieve net-zero CO2 emissions, with 50% of all shipments net-zero by 2030 through different strategies, such as:
Aviation biofuels
Electric vehicles
Reusable packaging
Renewable energy
Net-zero emissions mean that the corporation would remove the same amount of carbon gas emissions it produces. Amazon also promised to share their carbon footprint for the first time with the company later in 2019.
Some of the strategies have proven to be a success, like Frustration Free Packaging, and the latest addition Amazon Day is promising to cut down on carbon emissions.
Frustration-Free Packaging
In response to complaints about the overwhelming and wasteful amount of packaging, in 2008 Amazon set in place an incentive known as Frustration Free Packaging.
To protect the environment and reverse over-excessive packaging, Amazon's FFP program incentivises its vendors to package goods in Amazon FFP certified packaging, meaning that the products don't require additional overbox.
To this day, Amazon has certified almost one million products. (Keep in mind that it sells more than three billion products).
To increase the efficiency of this program, Amazon has put a deadline for retailers to get their goods certified. After 1 August 2019 all non-certified packages above the size 18" x 14" x 8" or 20lbs will be charged a fee. To get certified, the packaging must be 100% recyclable, easy to open, and able to endure shipping conditions.
So far, this has been a success for numerous brands under the Procter&Gamble, Unilever, and Hasbro umbrellas. In 2017 the program resulted in 430 million lbs of waste being eliminated; reducing packaging waste by 16%, which is the equivalent of around 305 million shipping boxes.
Amazon Day
At the end of April 2019 Amazon announced that its Prime members will be eligible for a new service named Amazon Day. On it, users will be able to choose one day a week when they wish to receive their Amazon purchases. As previously mentioned, this program is a step towards achieving the ambitious Shipment Zero by reducing packaging and miles driven by delivery trucks.
That said, however, Amazon doesn't release its mileages numbers. UPS and FedEx data, on the other hand, shows the home delivery length might be reduced by up to 75%, so Amazon is likely to see financial benefits from combining deliveries as well, which is a win-win for everyone.
What is Amazon accused of?
Transparency (or lack off)
While it has poured millions into the Closed Loop Fund in support of greenhouse gas emission elimination and waste minimising, Amazon has been criticised by Greenpeace and received an overall grade F for its lack of transparency regarding sustainability.
Although this grade concerns Amazon's own brand electronics products (Amazon Echo, Kindle e-books, etc.) rather than shipping packaging, it could be argued that this represents the company's attitude towards sustainability and corporate responsibility.
Amazon remains one of the least transparent: Amazon remains one of the least transparent companies in the world in terms of its environmental performance, as it still refuses to report the greenhouse gas footprint of its own operations. While Amazon is willing to talk about its recent renewable energy deals, the company provides few details on its sourcing of recycled materials that are going into its devices, nor does it publish any restrictions on hazardous chemicals in its devices or being used in its supply chain as other leading electronics brands provide."

/Greenpeace/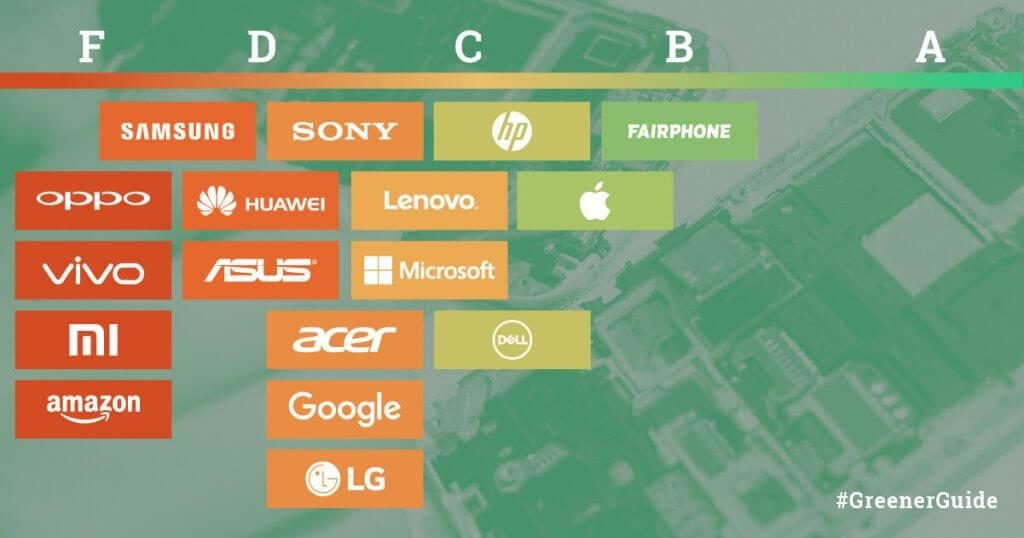 Source: https://www.greenpeace.org/usa/reports/greener-electronics-2017/
The issue of overboxing
Perhaps one of the most discussed topics in relation to retail landscape and environment is the absolute excess of packaging and its detrimental effect on the planet. Although there are products that require protective shipping-friendly packaging, going through a Russian nesting doll of boxes to get to your online purchase is unnecessary, especially when most products are designed to be transported in their original packaging.
Consumers have been complaining about the unnecessary amount of paper and bubble wrap around their purchases.
"Overboxing", although not yet an official term in dictionaries, has established itself as an Amazon shopping reality.
Boxes or mailers?
Recyclable light-weight air pillows, bubble plastic bags, and paper bags are used in order to reduce packaging waste and fit more orders in delivery trucks and planes.
However, the plastic mailers are twofold, as they require separation before they can be recycled, therefore they cannot be dropped in the recycling bin, but in the regular trash.
Plastic mailers end up contaminating bundles of paper bound for recycling. Amazon should be doing a better job at finding alternative packaging methods and creating plastic recycling locations.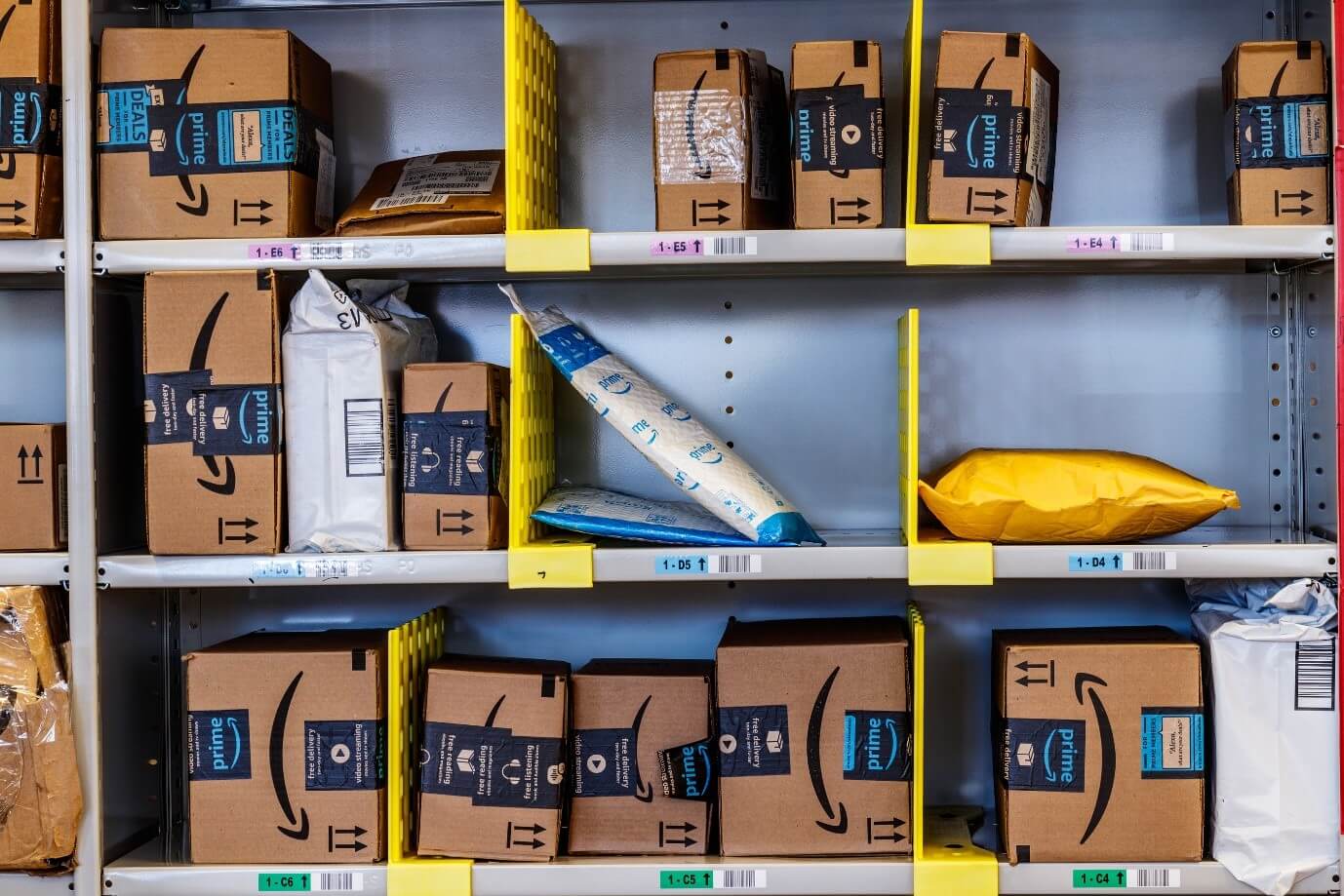 Controversy
Although Amazon runs multiple resultative sustainability incentives, it seems that for each environmentally-friendly incentive there is a negative flipside.
For example, Amazon made a $700 million investment in Rivian's electricity-powered trucks earlier this year, but in 2018 it purchased 20 000 new Mercedes Benz vans for its delivery services – all diesel-powered.
Similarly, as with its sustainability and corporate responsibility reports, Amazon remained reluctant to comment on this move and did not explain why alternative eco-friendly vehicles were not chosen instead.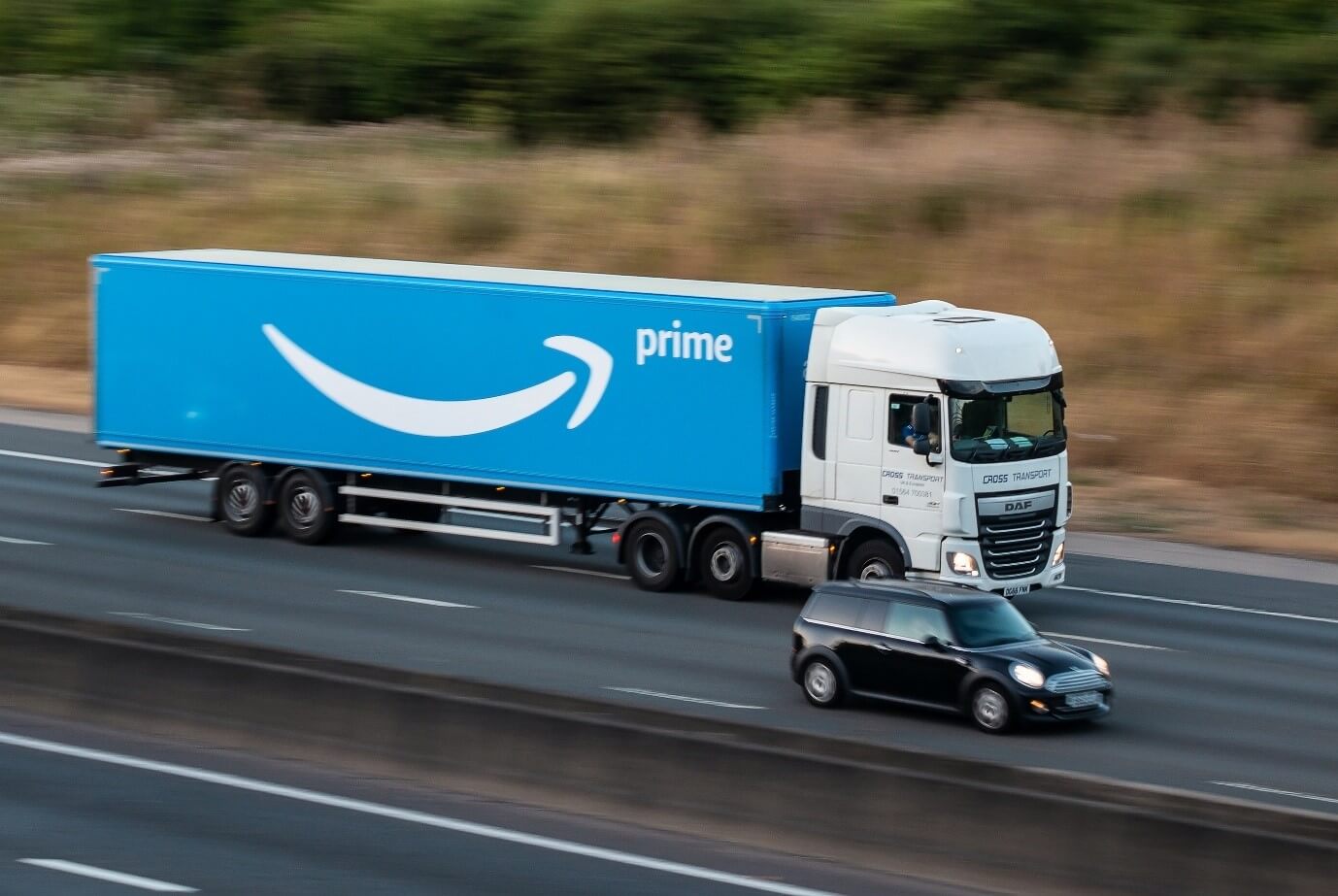 What can you do as a consumer?
Due to the lack of transparency from Amazon, consumers are struggling to see the link between their consumer habits and the environmental crisis that they contribute. Have a read through the below to see how you can be more mindful next time you browse Amazon:
Know how to recognize Amazon FFP certified products.
Be mindful about your purchasing behaviour — bulk buy things you purchase regularly to reduce the number of deliveries and therefore packaging.
Look into Amazon Day and limit your deliveries to once a week.
Reach out to the retailer and request to reduce waste in your order following these guidelines.
Don't contribute to the manufacturing of new products, and give a used product a second life by ordering from Amazon Warehouse.
You could consider switching from online shopping to an in-person shopping experience, but researchers from Green Logistics claim online shopping is environmentally friendlier. Instead, perhaps rethink the need for the purchase in the first place, embark on a minimalism journey and live a more meaningful life with less.