Usually, numerous festivals take place in the UK, and once the festival has gone, it leaves behind a trail of rubbish and abandoned tents.
COVID-19 has brought the majority of live music events to a halt, and although this is negative, it gives us a chance to learn how we can reduce waste at festivals.
More than three million people participate in festivals across the UK and generate approximately 2.8kg of waste per person, of which 68% ends up in the landfill.
Event organisers are taking this time to come up with green initiatives and encouraging future festival-goers to be eco-conscious.
Some event makers have set up environmental purpose-led festivals, like the Northamptonshire Shambala festival, that is known for its eco-credentials, using 100% renewable energy, no plastic, and even no fish and meat.

Pledge against plastic
As consumer awareness is increasing and festival organisers are becoming more accountable, festivals are getting greener.
In 2019 more than 60 independent UK festivals, including Reading, Wireless, and Leeds Festival,  pledged to eliminate all single-use plastic such as plastic straws, bottles, and food trays by 2021.
Among the banned items also is glitter, as the microplastic is impossible to extract from the soil, where it ends up contaminating lakes, rivers, oceans, and harming marine wildlife.
Glastonbury is at the forefront of well-known festivals showing a green example. The organisers have also put in place dozens of water kiosks and hundreds of water taps to fill up their reusable bottles.
Michael Eavis, the 83-year-old dairy farmer and creator of Glastonbury, has also required every attendee to sign his Green Pledge on the ticket purchase. The pledge focuses on respecting the farmland that hosts Glastonbury, by not leaving any belongings, using bins, recycling, using the provided toilets, and avoiding single-use plastic.
Does transport to the festival have an environmental effect?
When the plastic issue seems to be getting tamed, the remaining problems are C02 emissions from transport, abandoned tents, and toilets. Carbon dioxide emissions are mostly caused not by running the festival, but by the attendees travelling there.
In the UK, the transport industry accounts for 26% of greenhouse gas emissions. According to one of the co-founders of Shambala, Chris Johnson, "80% of the carbon footprint of a camping festival is made by travel down to the site."
Organisations like A Greener Festival advises that the festival industry is motivating attendees to choose public transport and car-sharing to get to the venues, as it can make a big difference in the carbon footprint.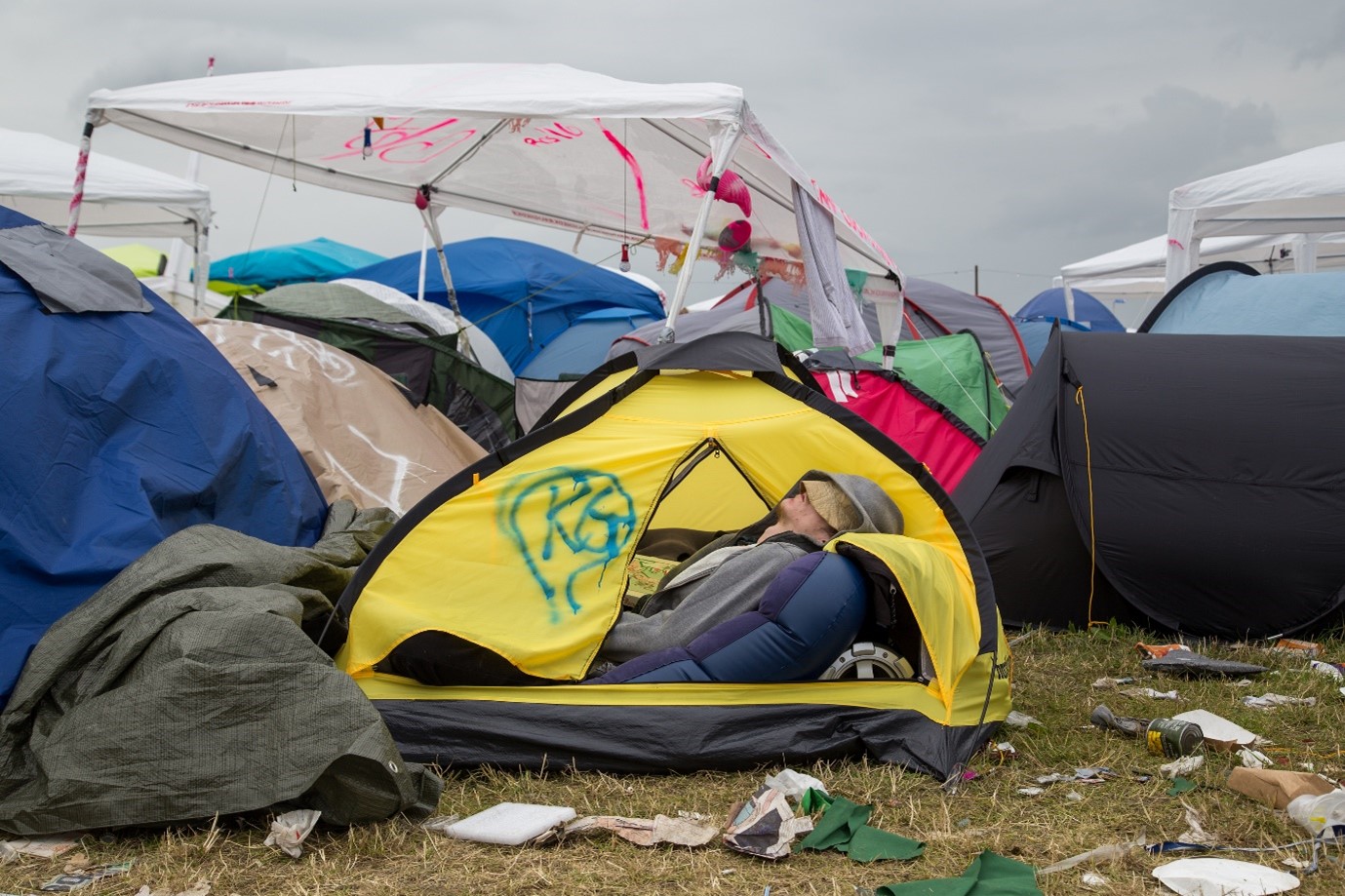 Can you leave your tent for charity?
Year after year festivals pop up in fields like little cities filled with tent houses, which their tenants are not always too keen on dismantling and leave behind. 90% of leftover tents end up in the landfill or the incinerator.
Although, there are still people that believe their abandoned tent will be donated to a charity. Some tents do end up used for philanthropic causes, for example, the organisers of Reading and Leeds Festival had approximately 930 volunteers from different charitable and voluntary organisations collecting reusable items such as tents and sleeping bags.
Over the years, the salvaging has helped save around 30 tonnes of waste otherwise going to landfills. Sadly, this honourable action has produced a negative side effect; now people justify leaving their tent behind with the fact that they will have a second life.
As many of the tents are low-quality, they are often broken and turn into single-use items useless for charities. Environmental organisations have also called out supermarkets to stop selling tents as disposable "festival tents", as they create almost a thousand tonnes of waste.  Tents are made of synthetic fabrics, a form of plastic, that does not get recycled.
Some companies are tackling the abandoned tent issue by creating waterproof cardboard tents, such as the KarTent, which can be recycled and made into boxes and bins and resold to event organisers, therefore participating in a circular economy.
Become a greener attendee and a greener host
Some blame the Millennials as a "throwaway" culture, that needs to change their mentality. The generation is said to lack a sense of community and connection to the environment around them.
There are several alternatives to the most wasteful and polluting aspects of festival going that can make a big difference:
Carpooling and public transport
Compostable food packaging
Reusable drink cups and bottles
Biodegradable cutlery and plates
Eco-glitter
Using bins and recycling
Leftover food donation to food banks
Digital tickets instead of paper
One day festivals to avoid tents
Raincoats instead of disposable plastic ponchos
Event hosts can also make a big difference. For example, the Oya Festival in Norway is 100% powered by sustainable energy.
If you are planning to work on a festival production team in the future, use the Dutch produced zero-waste festival handbook to implement these and other waste-free policies.
There already are several eco-friendly one-day festivals across Britain, that are actively tackling the waste, recycling, and composting issue.
Green Gathering won The 2018 Greener Festival Awards, for showing highest dedication to reducing its negative environmental impact.
Other eco-friendly festivals around the UK are:
Sunrise
Latitude
Green Man Festival
Wood Festival
Hay Festival
So, when you are packing for a festival in the future, keep the environment in mind before, during, and after the event!