With so much public interest focussed around sustainability and ethical business practice, Ethical Consumer has this week released a report on the most ethical supermarkets in the UK.
Ranking them on a range of attributes including product sustainability, politics, relationship with people, treatment of animals, and their impact on the environment, the supermarkets were given a scorecard of 20 possible points: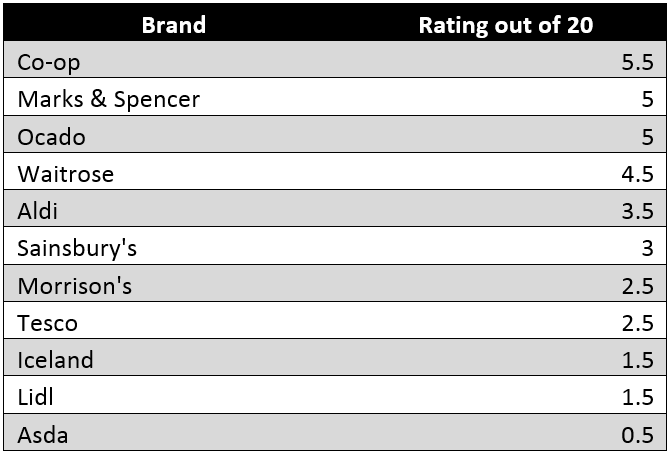 The study comes as France recently unveiled a new law banning major supermarkets from throwing away unsold food if it is unspoiled – requiring them to instead donate the food to charity.
Although there are no laws like this currently enacted in the UK, a recent petition has been created that has so far attracted 187,000 signatures, asking for supermarkets to donate leftover produce to food banks.
Only last year an enquiry found that the UK creates more food waste than any other country in the EU, managing to waste 14 million tonnes of food per year – roughly twice as much food per capita as the EU average.
But are the supermarkets doing anything about food waste?
Only last week, Asda, who came in last place in the Ethical Consumer study, revealed the "Wonky Veg Box", created in an effort to cut down on food waste.
As part of a trial, which shall take place in 128 Asda stores, the supermarket shall sell a week's worth of misshaped fruits and vegetables in a box for as little as £3.50.
Ian Harrison, the technical produce director for the supermarket said that:
"We're excited to launch a unique and exclusive Wonky Vegetable box that is jam-packed with ugly winter veg that not only saves shoppers money but helps farmers get more of their crop onto our shelves.

"However, this range only solves one part of the food waste puzzle. The work we continue to do with our growers to ensure as much of their crop is sold as possible, by flexing specifications, is the golden ticket for farmers.

"The initial reception to Wonky Fruit and Veg has been fantastic and we've been eager to take this one step further for a while, so the challenge to make wonky veg more widely available for customers was something we happily accepted from Jamie and Jimmy."
It is hoped that the new boxes shall save up to 340 tonnes of carrots and 300 tonnes of sweet potatoes that might previously have been rejected.