From single-use plastic packaging to thick, unrecyclable makeup palettes, the beauty industry is full of environmental flaws.
The rise of the beauty industry
The beauty industry is one of the fastest-growing sectors in the world. In 2021, it grew 4.75% worldwide to an estimated value of $511B. Experts have determined that by 2025, this number will reach $716B.
Most of the industry is still dominated by multinational conglomerates – the likes of L'Oréal, Unilever, Procter & Gamble, and Estée Lauder Companies made up 81.7% of worldwide revenue in 2019.
As eCommerce continues to grow, however, this is expected to shift. The exclusivity offered by smaller brands is appealing for many consumers who take joy in bagging a must-have item, as seen when music star Rihanna's new fragrance sold out in just 24 hours.
In more recent years, another beauty industry trend has also been noted, which could be a way for independent companies to finally make their mark – eco-friendly makeup. Things like 'natural', 'organic', and 'clean' makeup have been popping up on products, as consumers analyse the ingredients of their items and the wider impact of their favourite brands.
How social media has impacted makeup sales
A rapid expansion through digital channels, namely on places like Instagram and TikTok, has helped fuel the steep increase in the beauty industry.
As we become more digitally connected, with younger viewers logging on and quickly finding their new favourite creators, makeup fanatics all around the world are able to share their tips, tricks, and preferred products with millions of eager viewers.
Beauty influencers
A beauty influencer uses their large online following to discuss makeup products and influence the buying habits of their viewers. Successful beauty influencers have turned their passion into a full-time career, often earning well into the millions through sponsorships and advertisements from makeup giants.
The goal of beauty influencers is to create viral content that has a significant impact on the trends of makeup lovers, sharing their knowledge and expertise of particular products with the public.
Notable beauty influencers can drastically affect the sales of items. TikTok makeup products have proved particularly successful of late, as videos with millions of views highlight both big-name and small brand items. As the effects of the product are visually shared and circulated, it is transformed into a sell-out item, often proving difficult to get hold of following the online mania.
Of course, this is all great news for beauty businesses. Yet it's not so good for the environment – as consumerism grows and more pollutants are pumped into the atmosphere, the carbon footprint of the makeup industry is only s]et to grow.
How does makeup impact the environment?
As with most consumer industries, makeup has a massive effect on the environment. This is especially true given the growing nature of the beauty industry, as more countries around the globe become massive exporters of our favourite makeup brands.
Plastic
The majority of makeup comes in plastic that is not recyclable and ends up in landfill. Thick palettes and pots contain delicate powders and creams, creating pollution both during the manufacturing process and once the product has been used.
Waste
The packaging surrounding makeup is often single-use and cannot be recycled. This has only increased with the rise of online makeup sales, as products contain an extra layer of packaging to protect them during the delivery process.
Factories
Of course, these new products from emerging companies need somewhere to be made. Factories, often built in countries with a more delicate eco-system, emit tons of harmful greenhouse gases with their creation and production.
How are makeup companies going green?
Thankfully, there are ways that makeup companies are considering their impact on the environment and turning towards a more sustainable future.
MAC, one of the most notable makeup brands, encourages its customers to return their empty palettes and tubes to the company for free, and even offers a free lipstick after a certain amount of empties is recycled.
Lush has long been a pioneer of ethical and natural makeup. The packaging-free foundation, concealers, and highlighters are popular with makeup lovers, and all the products are certified cruelty-free.
A lot of companies offer cheaper versions of their products if customers opt for the refillable option instead, meaning those hard to recycle plastic pots and containers are reused multiple times.
You'll also find many makeup brands, large and small, using recyclable, plastic-free makeup packaging with their deliveries. Others have pledged a commitment to find completely sustainable alternatives to their packaging, for example, using sustainably-sourced wood and natural adhesives.
Ethical makeup brands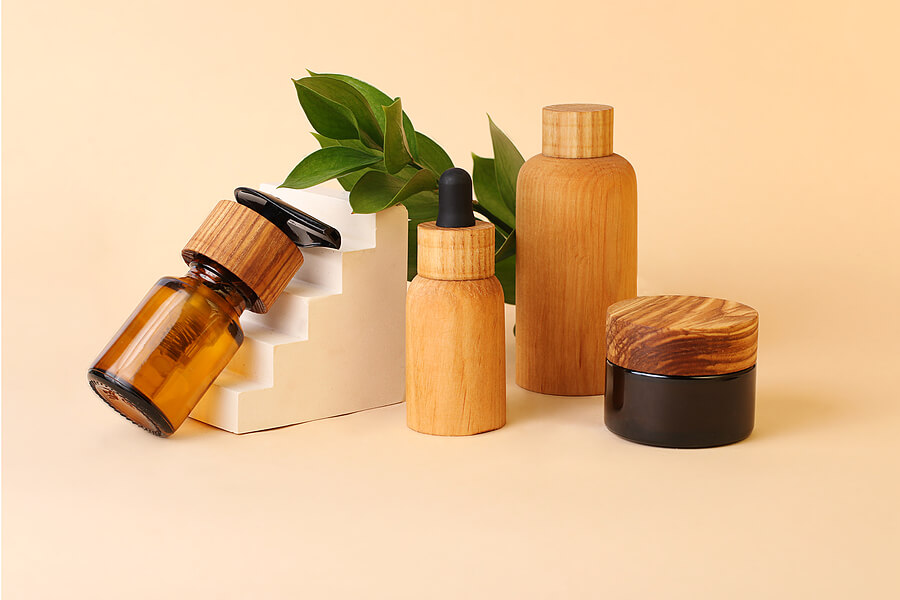 Natural makeup and clean makeup brands are, thankfully, on the rise. Nowadays, it's not hard to find an eco-friendly makeup alternative to your favourite product.
PHB Ethical Beauty's entire range is handmade, vegan, and ethically sourced. Organic oils and plant waxes make the products suitable for sensitive skin and help to nourish it too. PHB donates 20% of its profits to charity, while all the packaging is recyclable and comes from recycled materials.
Sustainable packaging is also at the forefront of the clean makeup brand, Odylique. Its jars are made with recycled materials, with around half being made in the UK, reducing production-related carbon emissions. The eye-shadows also come in a recyclable steel pan and a sleeve printed in the UK on an FSC-certified card.
Vyana Plant Beauty is another completely vegan ethical makeup brand that uses plant-derived ingredients in its products. Packaging wise, everything comes in recycled tins or cardboard tubes, while the delivery envelopes are compostable and the packaging peanuts dissolvable.