A report published yesterday by the newly established Clean200 has listed the largest publicly quoted companies worldwide by their total clean energy revenues.
Toyota, Tesla, DONG Energy, and Panasonic were among the top companies listed.
To qualify for the list, businesses are required to have a market capitalisation of at least $1 billion and generate at least 10 per cent of their revenues from clean sources.
Interestingly, out of the 200 companies, 66 entries were from China, 40 from the US, 20 from Japan and 8 from Germany.
Two UK companies are featured in the list, Atlantics Yield, ranked 92nd, and Dialog Semiconductor, found in 159th place.
The list has excluded oil and gas companies that generate less than 50 per cent of their power from renewable sources. Companies involved in negative climate lobbying, profitable deforestation, weapons manufacturing, and use of child or forced labour, have also been excluded.
The report stated that:
A great deal of effort has been devoted to identifying the fossil fuel companies that most threaten our fragile climate.

"This report asks a different set of questions: which companies currently are profiting from making the decision to participate in the clean transition and what is the best way to spot them?"

"To answer these questions we decided to rely on the Bloomberg New Energy Finance (BNEF) database."
The rankings are compiled by non-profit organisation You Sow, and market research firm, Corporate Knights.
The list is to be updated quarterly to serve as an opposing ranking list to 'Carbon Underground 200', which ranks the largest fossil fuel companies being targeted for divestment.
Comparing the rankings, the Clean200 rankings achieved a stimulated annualised return of 21.82 per cent over the past decade, three times the 7.84 per cent return by companies in the Carbon Underground list over the same period.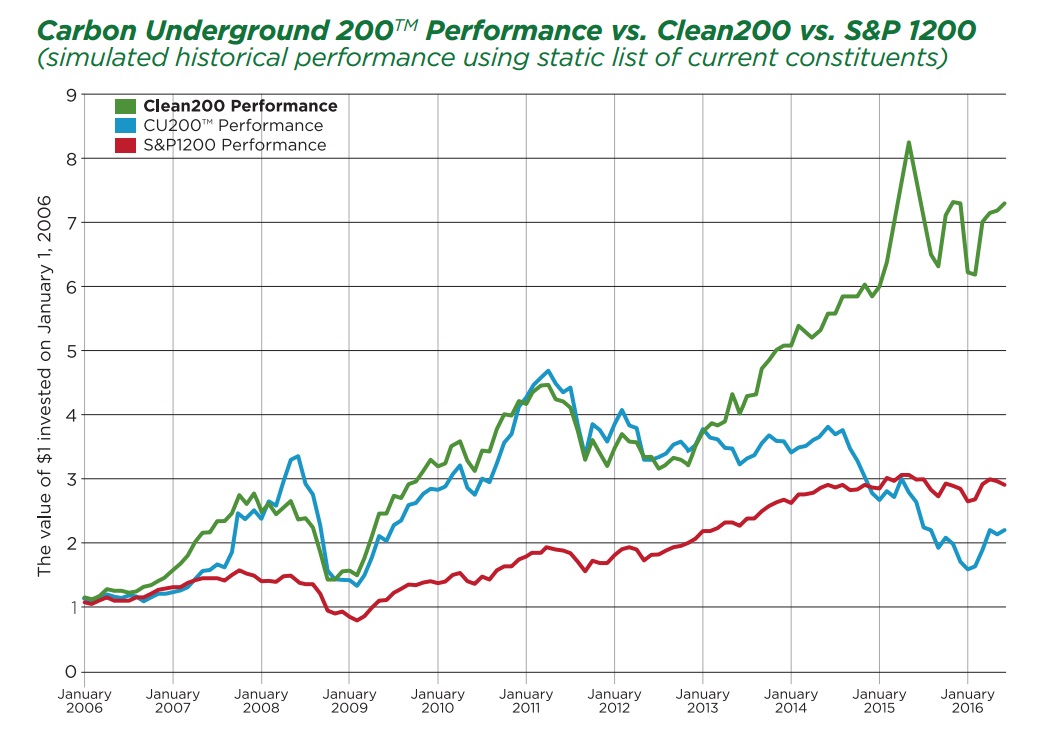 Toby Heaps, CEO of Corporate Knights and report co-author said:
The Clean200 nearly tripled the performance of its fossil fuel reserve-heavy counterpart over the past 10 years, showing that clean energy companies are providing concrete and measurable rewards to investors.

"What's more, the outstanding performance of this list shows that the notion that investors must sacrifice returns when investing in clean energy is outdated."
That said, 21.82 per cent of return generated by companies in the Clean200 list was generated by Chinese clean energy companies that have experienced considerable growth over the past decade.
The top 50 businesses in the Clean200 list, published on August 15 is as follows:
Toyota Motor
Siemens AG-REG
Johnson Controls
Schneider Electr
Panasonic Corp
Emerson Elec Co
Vestas Wind Syst+
Phillips Lighting+
ABB LTD-REG
Koninklijke Phil
DONG Energy A/S
Umicore
Xinjiang GOLD-A+
Eaton Corp
Sharp Corp
Bombardier INC-B
Tesla Motors+
Gamesa+
First Solar INC+
Hella
"+" denotes majority of revenues derived from clean energy as defined by BNEF.