According to a new report released by the Environmental Services Association (ESA), tax evasion, fly tipping, and other waste crime is costing England over half a billion pounds per year.
In Rethinking Waste Crime, written by Eunomia consultancy for the ESA, the report stated that fly tipping alone had a £209 million impact on the economy in 2015.
Furthermore, waste fraud, and waste misclassification during the same period cost the economy £129 million.
With illegal waste burning costing the economy £19 million, the report found that weak regulation was the major factor behind crime in the sector.
It stated that not enough inspections were being carried out and called for a reform of the waste carrier, broker, and dealer registration process.
Applicants, it stated, should also be subject to a competency test.
Due to the fact that a licence to carry waste can be easily obtained online, and waste carriers without permits are rarely inspected, it means that there is no way to track commercial waste from start to finish.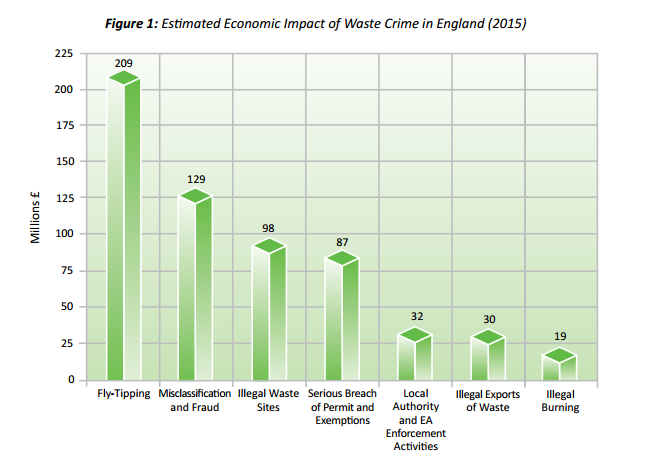 Jacob Hayler, ESA executive director, said:
Despite additional funding for regulators and stronger enforcement powers, waste crime is more entrenched than ever.

"Clearly, we need a different approach which targets the underlying causes of crime in our sector and which roots out the prevailing culture which allows waste crime to flourish.

"This report highlights the weakness in the current regime and puts forward ambitious recommendations aimed at stopping waste crime once and for all."
The same report did however comment that the waste sector adds £6.6 billion to the economy and has changed "beyond recognition" over the last two decades – despite the fact that regulation has not kept up pace.
Mike Brown, MD of Eunomia, said:
Regulators have been under-resourced and encouraged to take a light-touch approach in order to be business friendly. Ironically, this is actually harming the interests of legitimate waste businesses while giving criminals an easy ride.

"The solution isn't to abandon the progress we've made, but to modernise regulation to support our increasingly circular economy."
The report also outlines 14 recommendations on how waste crime can be tackled more effectively.