Bubble-blowing bins, recycling reward machines, a huge art installation and 'Re-Cycler' recycling collection bikes will appear across Leeds city centre from todayA  as part of #LeedsByExample – the UK's biggest push to date to trial innovative ways to improve rates of recycling on the go.
Whilst recycling at home and kerbside collections have improved over the years, the rate of recycling on-the-go is still low.
In the UK we get through 13 billion plastic bottles, 9 billion drinks cans and 2.5 billion coffee cups each year and yet recent research by ReCoup found that only 42% of local authorities provide on-the-go recycling facilities.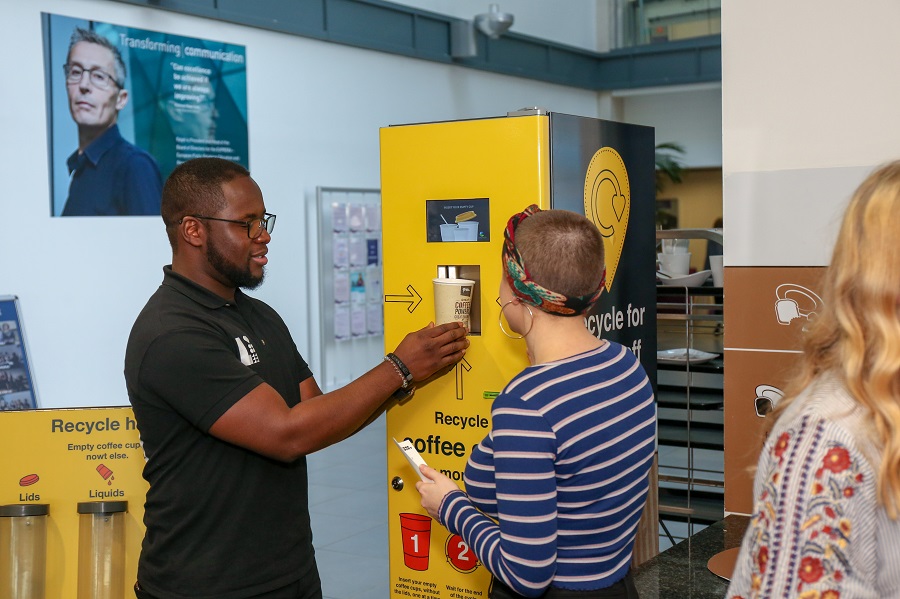 A survey of visitors to Leeds city centre conducted in August 2018 found that 52% of respondents had disposed of recyclable food and drinks packaging including plastic bottles, cans, coffee cups and food packaging whilst out and about and the majority of this recyclable waste was disposed into general waste bins.
The environmental behaviour change charity Hubbub and recycling compliance scheme Ecosurety have brought together a unique partnership of big businesses and local firms to support #LeedsByExample.
The campaign will pilot new recycling facilities for plastic, cans and paper cups on the streets, in local offices, shopping centres, universities and transport hubs for six months from October 2018, in conjunction with Leeds City Council.  The results of the trial will be shared openly with the goal of national roll-out of the most successful elements.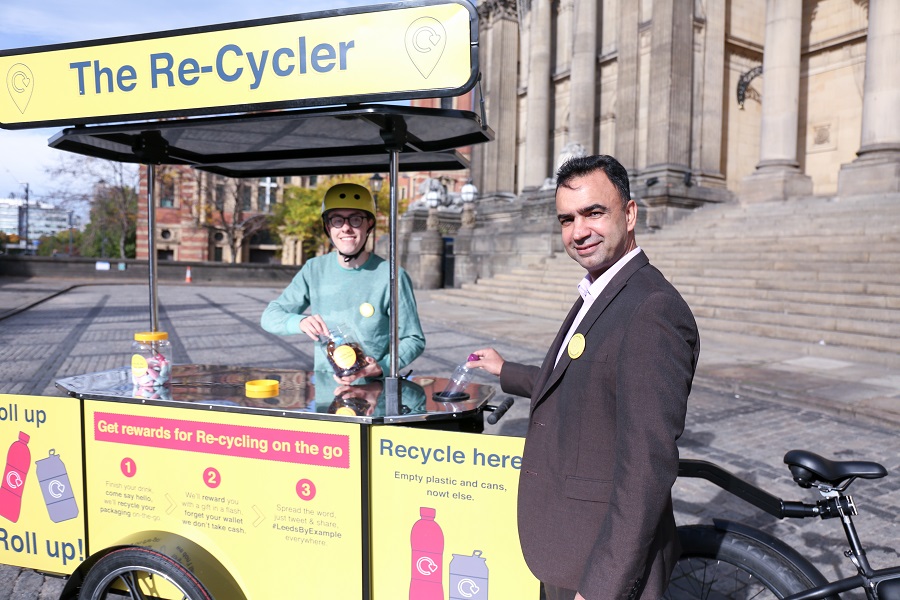 The initiative is backed by Alupro, Asda, Association of Convenience Stores, Ball Beverage Packaging Europe, British Plastics Federation, Bunzl, Caffe Nero, Coca-Cola GB, Costa Coffee, Co-op, Crown Packaging, Danone, Ecosurety, Highland Spring, Innocent, Klöckner Pentaplast (kp), Lucozade Ribena Suntory, Marks and Spencer, McDonald's, Morrisons, PepsiCo UK, Pret A Manger, Starbucks and Shell.
Whole batches of on-street recycling can easily become contaminated by liquids, tea bags and leftover food.  #LeedsByExample will seek to overcome this with a playful and eye-catching communications campaign including adverts, street signs and messages such as 'empty plastic and cans, nowt else' to help improve the quality of the recycling collected.
A unique element of the initiative will be the first UK trial of the We-Recycle app developed by OPRL, which will use barcodes and labelling on soft drinks packaging and coffee cups to provide clear, cross-brand help for people on what and how to recycle, with a map to find their nearest recycling points.
The app is one of a range of approaches designed to engage the youthful population of Leeds – 57% of the population of the city centre is aged 16 to 24.  Leeds city centre is a major destination for business and leisure, it also has a growing residential population and the average weekly footfall of 1.3 million provides a great opportunity to trial this innovative approach to recycling.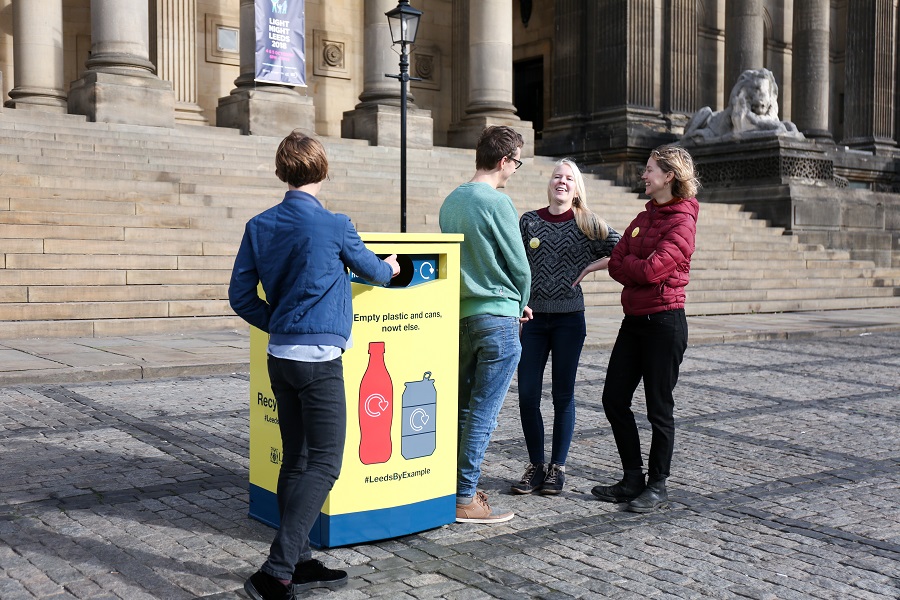 Gavin Ellis, Director and Co-Founder of Hubbub said:
"The huge range of eye-catching recycling bins and communications throughout Leeds city centre will make it really easy for residents, workers and visitors to spot their nearest recycling point.  We're interested to discover which of these will make the biggest difference and will share what we learn openly so that the most successful elements can be rolled out in Leeds and nationally.  We're also making sure that all of the recycling we collect will be processed in the UK as locally as possible."
Cllr Rafique, Leeds City Council executive board member for environment and active lifestyles said:
"With this pilot, innovative technology and interventions will be tested across our city and we are really pleased to see many businesses signed up already to this campaign, from universities to restaurants, shops and offices. I'm encouraging as many local businesses and organisations as possible to get behind this project so that together we can make a real impact on recycling rates in Leeds city centre."
James Piper, Managing Director of Ecosurety said:
"We're aware that contamination from food and drink has been a challenge in efforts to date to improve on-street recycling.  The communications campaign running alongside the new recycling facilities is a critical part of #LeedsByExample and we hope this will dramatically reduce the level of contamination so that more of the waste collected can be recycled."
Visitors to Leeds city centre are encouraged to:
Use the recycling bins for cans, coffee cups and plastic bottles, pots, tubs and trays
Download the We-Recycle app if you want to check what soft drinks packaging and coffee cups you can recycle where
Ensure packaging is empty before you recycle, as leftover food and drink can contaminate whole batches of recycling
Hang on to your recycling if you can't spot a bin nearby– with 30+ new recycling points across the city as well as high street chains such as Caffe Nero, Costa Coffee, McDonald's, Pret A Manger and Starbucks willing to recycle plastic bottles and cups, you'll never be more than 5 minutes walk from a recycling point
Follow and share the campaign on social media using #LeedsByExample
For further information on the initiative and to get involved, visit www.leedsbyexample.co.uk.