From a global perspective, Europe and the US are leading innovation in plastic recycling and alternative plastics technologies, a new study published today by the European Patent Office (EPO) shows. Europe and the US each accounted for about 30% of patenting activity worldwide in these sectors between 2010 and 2019, or 60% combined.
Within Europe, the UK together with France, Italy, the Netherlands and Belgium stands out for its specialisation in both plastic recycling and bioplastic technologies, while Germany as the top patent applicant among European countries, lacks specialisation in these fields.
The Patents for tomorrow's plastics: Global innovation trends in recycling, circular design and alternative sources study also reveals that in the domain of alternative plastics, the cosmetics and detergents industry is the sector innovating most intensively in bioplastics, with the UK's Unilever among the top ten patent applicants in this field.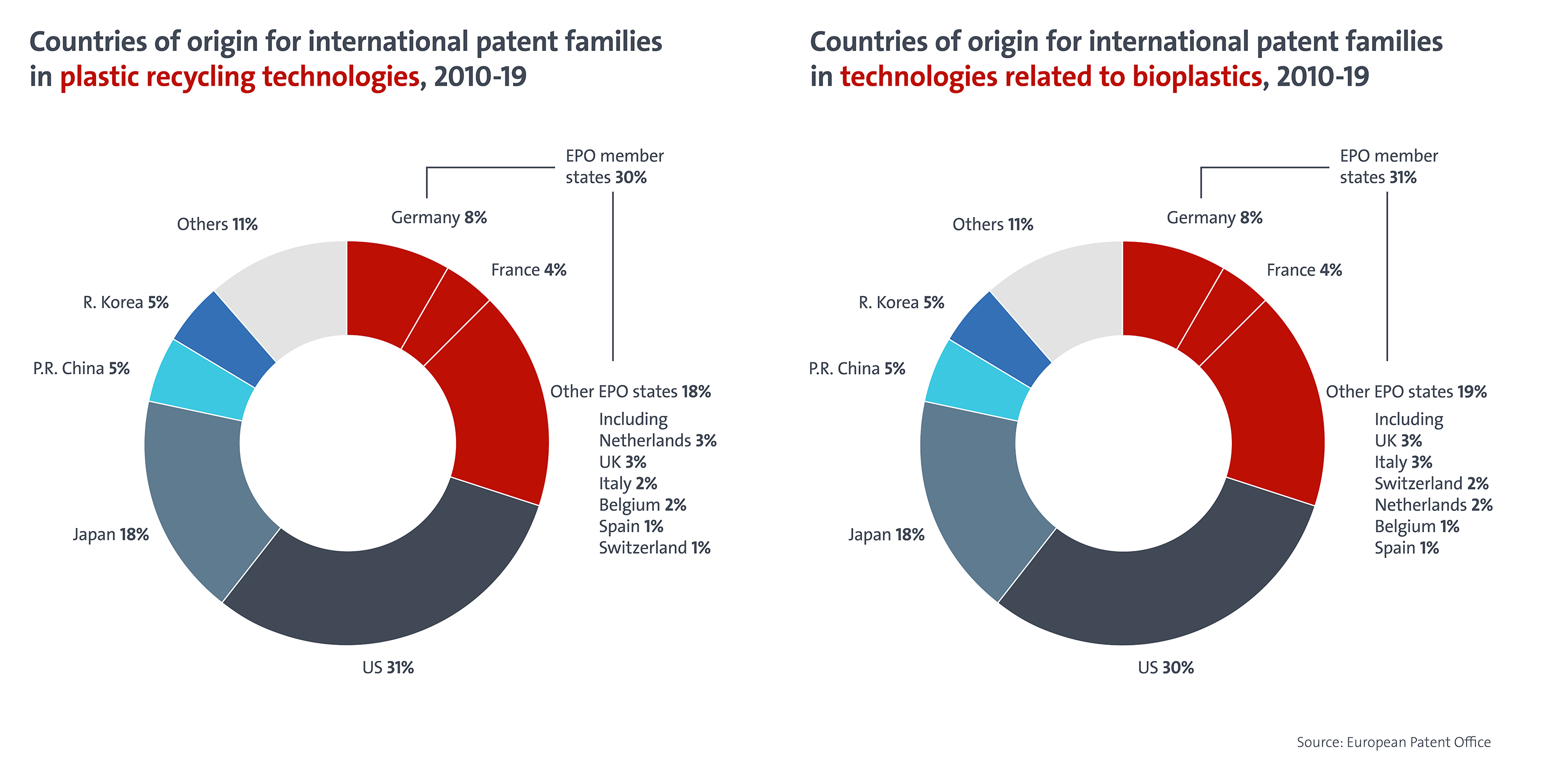 The study presents a comprehensive analysis of the innovation trends for the period 2010 to 2019 that are driving the transition to a circular economy for plastics and looks at the number of international patent families (IPFs), each of which represents an invention for which patent applications have been filed at two or more patent offices worldwide. It shows that of all recycling technologies, the fields of chemical and biological recycling methods generated the highest level of patenting activity in the period under review.
These methods accounted for 9 000 IPFs in 2010-19, double the number filed for mechanical recycling (4 500 IPFs), which is currently the most commonly used solution to transform plastic waste into new products. While the patenting of standard chemical methods (such as cracking and pyrolysis) reached a peak in 2014, emerging technologies such as biological methods using living organisms (1 500 IPFs) or plastic-to-monomer recycling (2 300 IPFs) now offer new possibilities to degrade polymers and produce virgin-like plastics.
Among the European countries in the top 10 for plastic recycling, the UK is within the group showing specialisation in plastic recycling technologies, expressed in a revealed technological advantage (RTA) above 1 and the highest degree of specialisation in waste recovery technologies, particularly in the fields of waste collection and cleaning.
With overall 436 plastic recycling IPFs between 2010 and 2019 equalling a 2.9% share, it ranks at number eight in a global ranking led by the US, Japan and Germany. The top 3 UK patent applicants for recycling technologies are Johnson Matthey, the University of Oxford and BP.
In the area of bioplastic inventions, the study finds that healthcare is by far the most active industry (more than 19 000 IPFs in 2010-19). However, it is the cosmetics and detergents sector that innovates most intensively in this field: In cosmetics and detergents, the ratio of bioplastics IPFs to conventional plastics IPFs is 1:3, compared to only 1:5 in the healthcare sector. Packaging, electronics and textiles are also significant contributors to innovation in bioplastics.
With 1 654 IPFs representing a global share of 2.9%, the UK, with specialisation in this field, is at number 7 in a global country ranking and at number 3 in Europe after Germany and France. A UK-specific ranking of top bioplastics applicants shows Unilever at number 1 and British American Tobacco and Invista Textiles in second and third place.
An analysis of global top applicants in bioplastics by selected categories reveals a strong overlap in the top 10 applicants in packaging and cosmetics/detergents. The UK's Unilever ranks at number 4 in the cosmetics and detergents category behind Procter & Gamble, L'Oréal and Henkel and at number 8 in the packaging category (see Figure: Innovation in bioplastics per sector).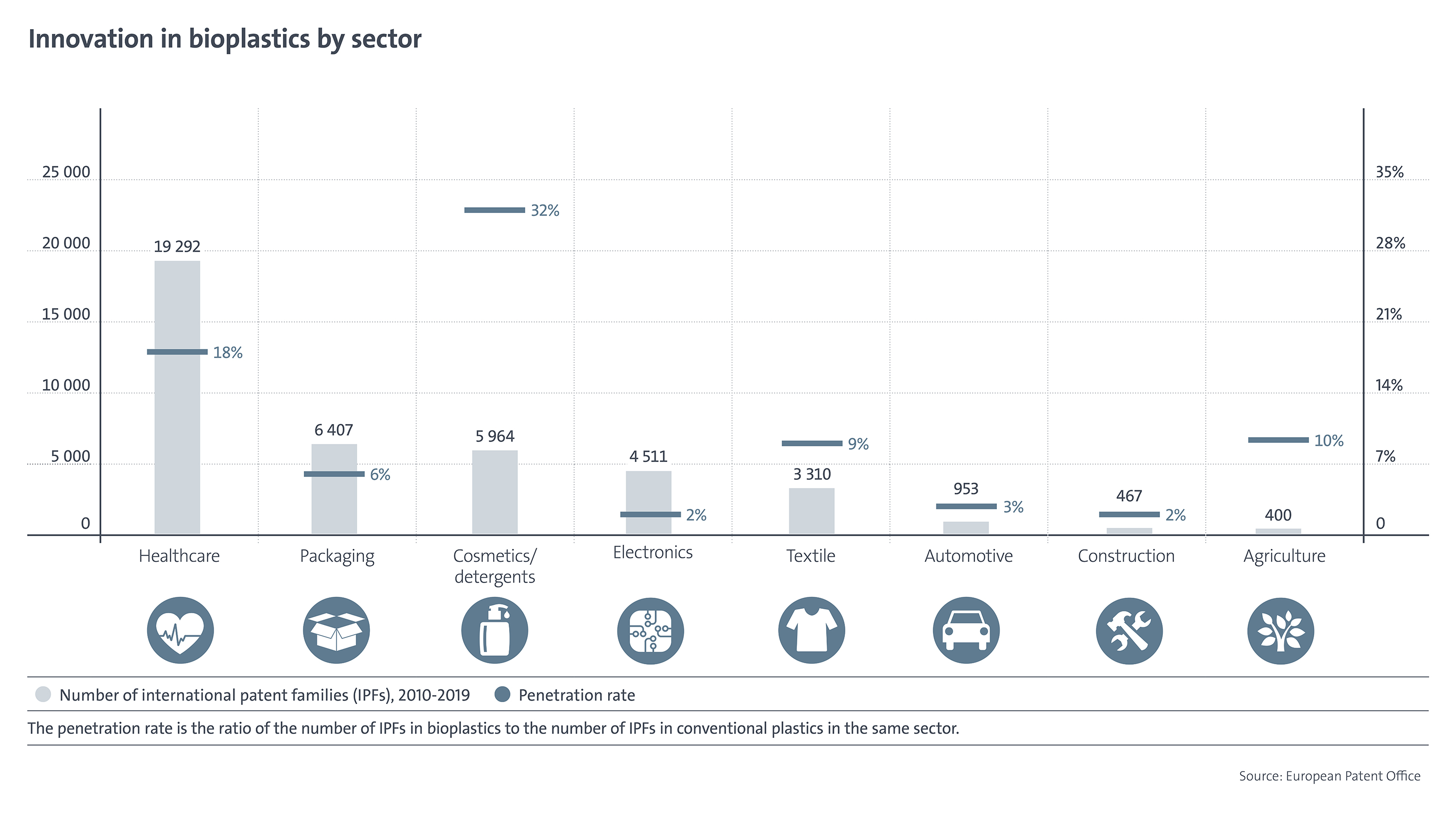 The study highlights significant potential in alternative technologies focussed on new plastic designs for easier recycling, an area which has developed exponentially in recent years, with an average annual growth rate of 10% since 2010.
These technologies have potential applications in aerospace, construction, transportation, wind turbines and microelectronics. The rapid growth of patenting in these fields is almost entirely driven by innovation in dynamic covalent bonding – an approach allowing for novel designs of durable plastic materials capable of self-repairing.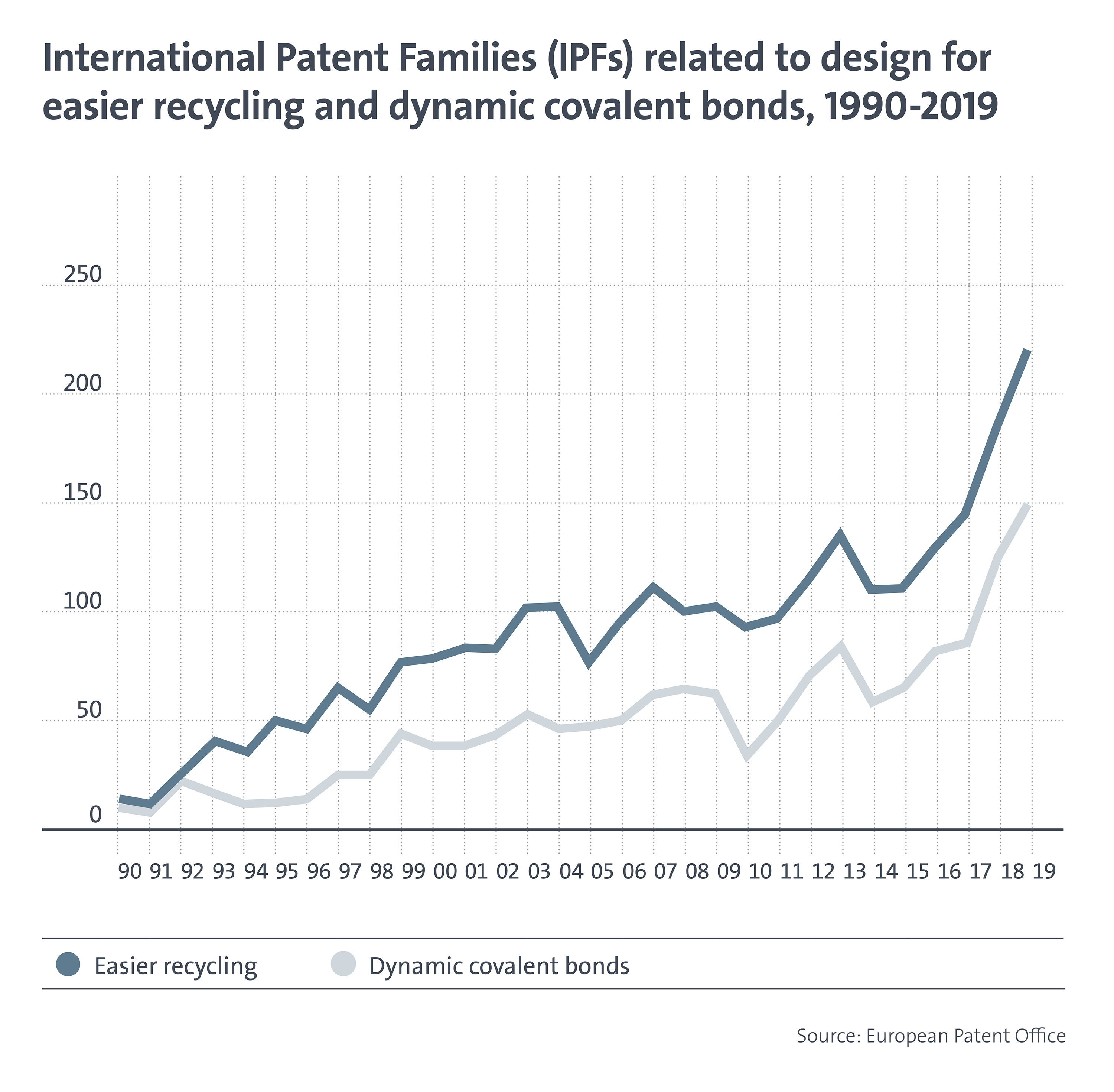 The report also finds that in the chemical and biological recycling fields, fundamental research plays a much more significant role than in other plastic recycling technologies, with nearly 20% of inventions originating from universities and public research organisations. 
In terms of geographic location of these universities and public research organisations, Europe and the US have a clear lead, each with 29% of those IPFs stemming from research institutions. The report shows that Europe is the only major innovation hub to contribute a larger share of the chemical and biological recycling inventions from upstream research (29%) than overall in the field (26%).
Meanwhile, US start-ups and scale-ups generated four times as many IPFs in chemical and biological recycling as their European counterparts (338 v. 84). This suggests that Europe, despite being particularly active in fundamental research, is not exploiting its full potential when it comes to transferring these technologies to industry.